DR. ANDREW M. BLECHER: SPORTS MEDICINE SPECIALIST
"I am a stuntman who works nonstop on all the biggest movies in Hollywood. I tore my ACL and had 3 months until I needed to fly out to stunt double for the Winter Soldier in Captain America Civil War. After the procedure the knee held up amazing! I knew I was back to 100 percent and the stem cell therapy worked awesome! What was amazing to me was the MRI report showed no sign of an injury to my ACL. It had grown back 100 percent that you would never know it had been injured!!! I just wanted to write this to thank Dr. Blecher for his amazing work, and getting me back to 100 percent healed in 3 months! Thank you Dr. Blecher, words can never describe what you did for me and getting me back to work so fast and so strong and being able to stunt double for the Winter Soldier!"
JUSTIN SUNDQUIST
PROFESSIONAL STUNTMAN
"When I came to Dr Blecher last year with an injury on my shoulder, as well as my calf, he not only wanted to figure it all out, but his attention to detail as well as his desire to get me back on the field as fast and safe as possible, did not go unnoticed. I play ball for the National USA fast pitch softball team Maccabi USA, and if he didn't get me back on the field as fast as he did, I would have never been able to go to Israel and win, Silver :-). Thanks for caring about your patients the way you do. All the best."
BILLY FRANK
MACCABI USA/ PLAYER-CAPTAIN
"In January I was faced with another full thickness tear in my rotator cuff and wondered what my options might be. Would it be another surgery or possibly something different? I was introduced to Dr. Andrew Blecher who thought I might be a candidate for the new Regenexx stem cell procedure. This new procedure has changed my life, given me a new shoulder and all without invasive shoulder surgery. I cannot explain how happy I am that I chose this method for my shoulder and now I feel great, have significantly less pain and 100% range of motion. Thank you Dr. Blecher and Regenexx."
LLOYD EISLER
2-TIME OLYMPIC MEDALIST
MEMBER OF THE CANADIAN SPORTS HALL OF FAME
"I wanted to express my gratitude for Dr Blecher's PRP treatment for both my knees. I am a Masters Track and Field competitor in the Long Jump and Triple Jump and won the National Championship in 2010 and 2011. However, I developed patellar tendon problems in both knees. I thought my jumping days may be over. I decided to see Dr Blecher for PRP treatment and it turned out to be the right decision. I wanted to report how I am doing since the completion of treatment. At year's end I was ranked #1 in the nation in the triple jump and #3 in the long jump. I went back to Boston to compete in the Masters Indoor Nationals. I won the Gold in both the Triple Jump and Long Jump. At this point my knees are holding up great. Again, thank you for all you have done for me."
GREG MIMM
"Close to the end of the third game in our season, I was hit in the knee on a short yardage play and tore my MCL. It ended up being a grade 3 tear, and I was told the ligament would take 8-12 weeks to completely heal. I was the only person on the team that played center so it was important that I came back as soon as possible. The doctor suggested a PRP treatment. About a week after the injury I received a PRP treatment, and two weeks later I was back in practice. I hardly noticed any looseness or pain in my first game back. We're in week ten of the season now and my knee doesn't bother me at all!"
JACKSON SMITH
COLLEGE OF THE CANYONS, CENTER 2010 SEASON
"Regenexx has offered me pain free living for the first time in 20 years. After years of dealing with pain I turned to viscosupplementation and PRP with good results. Once those techniques no longer provided long term relief, Dr. Blecher suggested Regenexx. After 6 weeks I was able to complete an active work day as a physical therapist with no pain whatsoever. I'm very excited to return to mountain biking and soccer in the next few weeks."
ANDREW DEL RIO, MPT
"I was told about this injection which takes your blood and sends it in a centrifuge and takes the plasma and platelets and separates the rest. Well after I was cleared to do movements I started rehab with my athletic trainer. So I finally got on the mound and started throwing a couple bullpens, felt good!!! After a couple of starts my velocity finally started to come back. My arm was finally getting into shape. Throughout the season I had no problem with it. Each start it felt great! I was throwing each ball with conviction! After the season was over I was drafted by the St. Louis Cardinals!"
CORY JONES
"As our team physician, Dr Blecher oversees preparticipation physicals and clearance for our 400+ student-athletes, gives valuable input into our sports medicine policy development and implementation, and is easily accessible for consultation and evaluation of any injuries or illnesses sustained by our student-athletes. His expertise, particularly in the areas of concussion management and regenerative medicine, enables the student-athletes of our 17 intercollegiate teams to return to sport safely and in a timely manner. Dr. Blecher not only stays up to date on the latest medical interventions but also has the ability to easily relate to our student-athletes resulting in excellent patient outcomes. We are so thankful for everything he does for us!"

SARAH EHRSAM, ATC
HEAD ATHLETIC TRAINER, COLLEGE OF THE CANYONS

Dr. Blecher—Los Angeles Sports Medicine Specialist and Regenexx® Provider
Dr. Andrew M. Blecher is no ordinary sports medicine doctor. Also known as TheJockDoc, Dr. Blecher is board certified in sports medicine and offers a broad range of services for many different types of orthopedic and sports medicine conditions, including regenerative procedures such as Regenexx Bone Marrow Concentrate and Platelet Rich Plasma (PRP) injections.
Dr. Blecher is the only sports medicine doctor on the West Coast to offer the world's most advanced orthopedic bone marrow concentrate procedure at the Regenexx Cayman location.
Serving three locations in Los Angeles and Southern California:
Van Nuys office serving the San Fernando Valley area
Valencia office serving the Santa Clarita Valley area
Beverly Hills office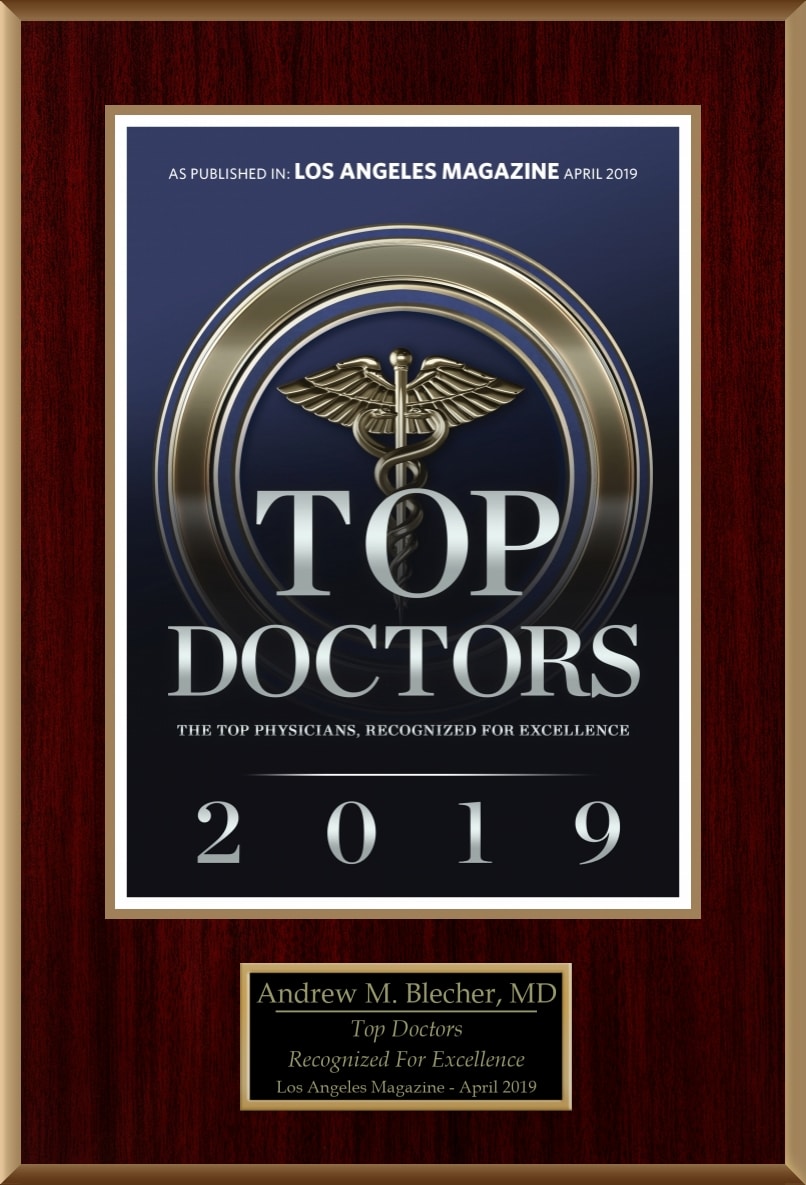 Sports Injuries:
Jumper's & Runner's Knee
Little Leaguer's Shoulder
Pitcher's Elbow
Sportsman's Hernia
Acute/Chronic Ligament,
Tendon & Muscle Injuries
Athlete Concussions:
ImPACT Testing

SCAT3 Testing

Baseline Testing

ZURICH Guidelines

RTP Protocol

Clinical Research Trials
Regenexx Orthopedic Regenerative Medicine:
Regenexx Platelet Rich Plasma (PRP) & Bone Marrow Concentrate

Regenexx International Cultured Stem Cells

Cartilage, Ligament, Tendon Injuries

Arthritis

Rotator Cuff Injuries

ACL Injuries
Viscosupplementation:
Hyaluronic Acid Injections

Arthritis 

Cartilage Injuries

Knee, Shoulder, Hip & Ankle Injuries

Orthovisc, Euflexxa, Hyalgan, Synvisc, Supartz

Monovisc National Clinical Research Trial
Musculoskeletal Ultrasound:
Diagnostic Evaluations

Precision Guided Procedures

Tendonitis & Achilles Tendinopathy

Tendon & Ligament Injuries

Muscle injuries

Certified MSK Ultrasound Pioneer
Sonorex & Tenex FAST Treatments:
Tendinopathies

Plantar Fasciitis

Achilles Tendonitis

Tennis Elbow


Golfer's Elbow
PREMIER SPORTS MEDICINE DOCTOR FOR PRO AND AMATEUR ATHLETES
Dr. Blecher works with pro and amateur athletes of all levels, including the NBA, WBNA, NFL, MLB, X Games, USA Gymnastics, NCAA Track & Field, Ironman Triathlon, and more.
Miami Dolphins Quarterback, Ryan Tannehill, Turns to Regenexx
In 2017, Tannehill opted for cryopreservation at Regenexx Cayman, where his stem cells were extracted and stored for future use. Tannehill later received the advanced stem cell treatment, Regenexx-C. Sidelined by injury in 2016, Tannehill returned to the field this season. After being on the injured list for 5 consecutive games, he returned to regular play with the Miami Dolphins for a late-season playoff push.
"Things are going to be hurting a little bit when I'm older; it's just the nature of the business, so to have something available, to help heal from that is huge. I have cells banked in Grand Cayman and I'm able to use those in order to improve my quality of life and be able to enjoy the rest of my life."
Ryan Tannehill – Professional Football Player
Dr. Blecher's Treatment Philosophy
"As an NCAA All-American and multi-sport athlete myself, I have sustained many acute and chronic injuries over the years. I've had a concussion, broken bones, a ruptured hamstring, shin splints, multiple sprains and strains, a rotator cuff injury and herniated discs. I've had 3 surgeries, over 30 spine injections, PRP and traditional and non traditional therapies and I've done more rehab, physical therapy and cross training than I care to remember. I know what it's like to miss the sport you love, be overwhelmed with treatment options and be under pressure to get it right.
Whether you are a professional athlete trying to get off of injured reserve, or you are training for that gold medal, or you are a high school football player going through the concussion protocol, or even if you just want to be able to walk your dog without that painful knee giving out on you, as your sports medicine physician I am honored to be entrusted with your care.I will work with you to balance our two objectives:
1) Maintain my duty to protect you from further injury and be honest about treatment outcome expectations
2) Aggressively exhaust all diagnostic and treatment options to help you go farther, faster and higher so you can conquer your objectives, vanquish your opponents and achieve all of your goals.
I look forward to meeting you and getting you back on top of your game as fast and as safely as possible."
Sincerely,
Dr. Andrew M. Blecher
Dr. Blecher in the Media
See Dr. Andrew M. Blecher in action in his latest media appearances and interviews.